Enhanced Riding

Take your riding to the next level!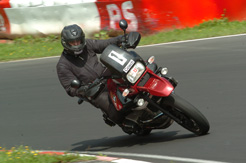 Enhanced Riding exists to help you develop your innate abilities on a bike so you can relax and enjoy your motorcycling even more.
Whatever your current level of riding ability, Enhanced Riding will coach you to become safer, smoother, and develop a greater awareness of the options available to you on the road.
You'll enjoy your riding more, knowng that your honed riding skills will help keep you safe and enable you to get the most out of your riding.
From initial assessment to your bespoke coaching package, you remain the focus of my attention. I aim to ensure that you learn by having fun and enjoying yourself.
With a wealth of experience & qualifications as a coach across a range of activities, (motorcycling, rugby union, swimming, squash), I am able to design an individual programme or event to meet your specific goals. This experience has shown me that we learn more effectively if we're relaxed and enjoying ourselves. So, I will work with you to make sure that you are learning from a coaching style that suits you, and that you have fun while you learn.

Enhanced Riding also exists to enable me to spend more time doing what I enjoy most - riding bikes in beautiful parts of the world, meeting people keen to develop their riding, and adding to my circle of friends!
Read about what I can offer...