Enhanced Riding

What we offer...
Picking your course.
You decide which course best meets your needs. On the full day, two, three and four day residential courses the morning of the first day is used to attain a comprehensive understanding of your current riding, your strengths and areas for enhancement. Alternatively, you can book an initial assessment for a chance to try out our coaching and get an idea of where we might go next.
Course types
Initial Assessment
A detailed assessment of your current riding, its strengths, and areas for possible improvement. Plus the options open to you in achieving your riding goals.
(An initial assessment is entirely optional, but it's a great way for you to try me out!)
One two or three day individual courses.
Some people prefer to take their coaching a day at a time, spread over the year. Some clients prefer to come back for a "refresher" day, having taken a longer course initially.
These individual days look very much like an expanded Half Day Assessment. They can be held anywhere of your choice, and have the added advantage of being able to be fitted in at relatively short notice - particularly if you want to ensure a sunny day for your event.
One to one, or one to two
Although one-to-one coaching is usually the most effective [the preferred option], it is possible for two individuals used to riding together to be coached one-to-two.
Each of you would take it in turns to be in the spotlight in front, the other riding behind the coach - this allows a period for some relaxation and also a chance to appreciate aspects of riding from the point of view of an observer.
Two, three, and four day residential courses
As you can see on the Venues page, these residential events take place in areas of the country renowned for their scenery and excellent biking roads. The roads we ride have less traffic, so that we can concentrate upon the aspect of your riding that you have identified as being a target.
Spending one or two nights in the same accommodation means we can devote more time to discussing and exploring aspects of your riding. This gives you the time and the opportunity to work through any issues or difficulties in a thoughful and considered manner.
Pillion Training
If you regularly ride with a pillion on board, I can include them in both the initial assessment session and / or the training event - why should you have all the fun?
I employ an experienced pillion, (Elana), who won the coveted, "Best Pillion", award at the Nurburgring in 2005, and she is available to assist to help both of you to enjoy yourselves even more each time you go out on the bike together.
Elana is not a full time employee of ER, so it is advisable to book a course involving her well in advance.
How it works
On Road
Initial Assessment
Having met at the agreed time and place and following a short briefing, we ride together for approx one hour. Following which we have a debrief in which we discuss the ride, and I give you my initial feedback. Later, within the next week you receive a written assessment, which includes pointers for further development.
Half day assessment
You choose the place, we'll meet there and discuss your aims and the goals you have for your riding. Having fitted the Autocom unit to your helmet/s and the Motorola radio to you or your bike we will set off for the start of your assessment.
Over the next three or four hours we will cover a variety of roads and a mixture of the everyday challenges that we face in our riding.
We will take breaks every thirty to forty minutes depending on the need for feedback and discussion. At the end of the assessment we will find a comfortable, bike friendly cafe in which to discuss the day and what we have discovered - you will receive an initial assessment and be able to ask any questions or ask for clarification. It is often the case that as we learn more we discover even more questions than we started out with!
Some time during the following week I will send you a detailed assessment feedback report - covering; Deportment, Approach, Slow speed skills, Cornering, Positioning, Awareness, Braking, Overtaking, Decision making & Response . This assessment, together with the SD card record of your riding (if you have requested this) will give you a comprehensive outline of your riding across a broad spectrum of situations, and will help you identify how you might wish to develop your skills .
Finally, at the end of the report I will give you a list of "next step" options, outlining how you might want to enhance your riding even more.
Off Road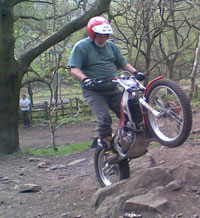 If in Yorkshire, we'll meet at a Trials practice ground near Leeds, and we will spend the half day practising slow speed skills in a safe and flexible environment. Lots of mud, lots of opportunity to learn about what your inputs do to the bike, and how to maximise and utilise adhesion. This is also a good time to practice picking up a fallen bike and learn some of the basics of machine control that are often ignored.
An SD card record of your riding can be made available should you wish.
I provide the bike, (Montesa Cota 315), you provide the energy and willingness to have a go.
As for the on road half day,a written assessment report will follow in the next week. The report will detail aspects of your riding such as, body position, approach, vision, machine control, balance and slow speed skills.